Kensington was abuzz in the spring of 1884. Fourteen years of campaigning for proper, functioning sewers had paid off! The streets were starting to become a little cleaner as the parishes around the area were investing in employing their own dustmen and waste disposal rather than relying on dubious contractors. Electric street lighting, first introduced in 1881, was being rolled out across the capital, making night-time walking a slightly less dangerous. Of course, there was still the mud and the issues of indoor plumbing, but things were looking up.
To keep the ball rolling on public hygiene, Kensington was chosen as the location of the first International Health Exhibition. Hopefully this show would reflect the progress which had been made so far and provide an incentive for further improvements! The site is now occupied by parts of Imperial College and is just to the back of the Natural History Museum. Sponsorship was provided by the competing water and electricity companies that were hoping to provide facilities for the capital.
When one of the four million visitors who bought a ticket in the six months the show was opened entered, they were first handed a brochure and floor plan.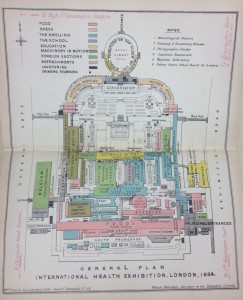 The first exhibit was a recreation of 'London in the Olden Times': a medieval street, complete with the smells and dangers of ancient slums. The Some Tudor era buildings were, in fact, still present in the capital and this display was a reminder that these needed to be pulled down. If you were unconvinced, you had a labelled diagram in your brochure describing how unsanitary these buildings were.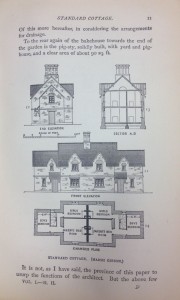 After the shock of revisiting the past, visitors would move on to a modern 'unsanitary' house. This had terrible heating and plumbing, arsenic in the wallpaper and a stinking rubbish bin in the basement. Luckily, they could quickly move on to an improved 'sanitary' house and see the progress we were all making.
The achievement of street lighting was celebrated in 'The Largest Display of Electric lighting in the world', and other uses of electricity could be seen in the amazing 'Laundries in Operation' display. Farms too were represented with the amazing 'Chicken Hatching Establishment' on show.
However, for hungry visitors, there was a real treat in store. For the first time, exotic food from the far-off nation of Japan, prepared perfectly hygienically could be sampled and enjoyed for lunch. You could even take home a recipe card telling you how to make Saki and how to prepare recipes with Tofu!
Sadly, if you enjoyed these delicious treats, you may not live to try them again in London. The first official Japanese restaurant wouldn't open until 1967, but we can only hope that the people of Kensington enjoyed their pioneering taste of tofu.